We, as a fully experienced group, with a brilliant background in Iranian industries as a leading manufacturer of overhead crane, could bring about an opportunity for all companies and organizations to be supplied by our high technology in producing overhead cranes according to international standards such as CMAA 70, FEM 1.001 & AWS D14.1.
We are working as an official representative of STREET Crane company which is a leading company in Europe with high and specific technology in manufacturing cranes. Street Crane products span is from 2 ton up to 200 ton including heavy duty and special cranes. Moreover, chain hoists of Street Crane cover all requirements from 2 ton up to 5 ton with competitive price in comparison with other European Companies. Street Crane uses motors of Siemens & Gearboxes of Flender & Nord.
Brilliant capability of our Company is our tendency and our abilities for working according to complicated mathematical calculations and finite element modeling of any individual parts of crane, manufacturing according to the guide lines of European companies and our strict quality control provides a product which is considerably distinguishable.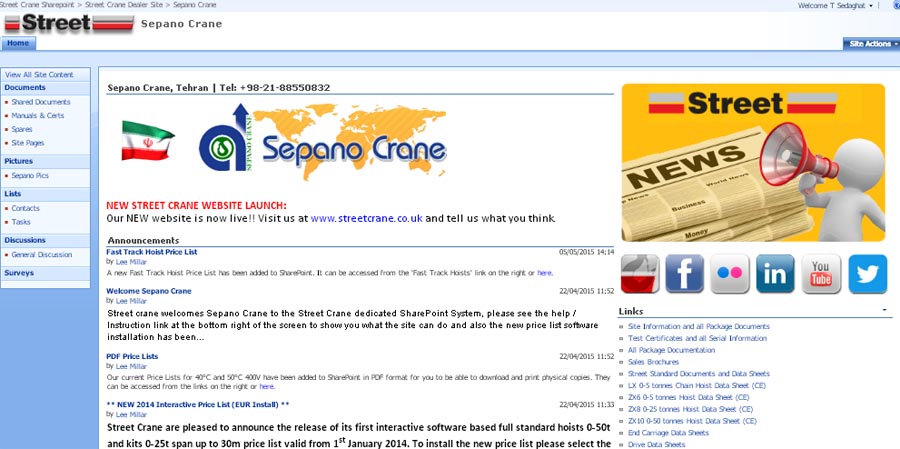 We could provide a vast range of products which are well-known in Iranian industries such as STAHL, DEMAG, ABUS, KULI, VERLINDE, SWF, ITALKRANE, PODEM, ELMOT, BALKANKAR, KG, SAMSUNG and also we could provide Explosion proof cranes by providing all products of ITALKRANE company with the technology of Italy.
We could offer and perform PM for all sorts of cranes and also we could prepare all spare parts regarding to overhead cranes such as Wire Rope, Hook Blocks, rope Guide, Brakes, Inverter, Contactors, Sweepers, Bus Bar, C-Rail, Cable Trolley and ...
Our considerable power in designing cranes in all aspects such as mechanical parts, structural members and electrical systems would let all clients feel free to cover all their requirements.