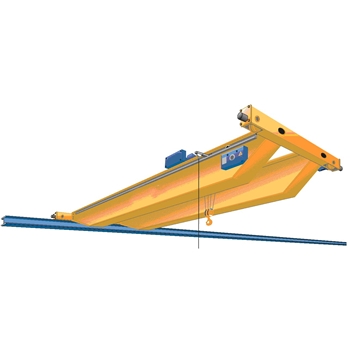 In these sort of cranes, two parallel rails would be mounted on top of bridge sections and a double rail crab moves along them.

Main Specifications Of Double Girder Overhead Cranes
Precious Manufacturing
Capability of using maintenance platform
Capability of using Control Cabin
Capability of using several hoists on a single trolley
Capability of using several hoists and trolley on a crane
Capability of using several monorail hoists under a bridge section
Precious setup
No restriction on capacity
No restriction on span
Easier maintenance
More safety
Capability for zero hook displacement
Higher price in capacities lower than 5 ton and spans shorter than 10 meter
Connection between girder and end carriage:
Considering special conditions of the place which the crane would be setup, there are variety of designations to connect end carriage to the girder to achieve maximum hook level.
Regarding to the top wins and losses it could be understood that double girder top running cranes would be a good choice for capacities over 10 ton with span over than 15 meter. Moreover, setting up a maintenance platform is one of the best advantages of these sort of cranes which makes it easy to apply periodic maintenance services.